Creta J. Prosch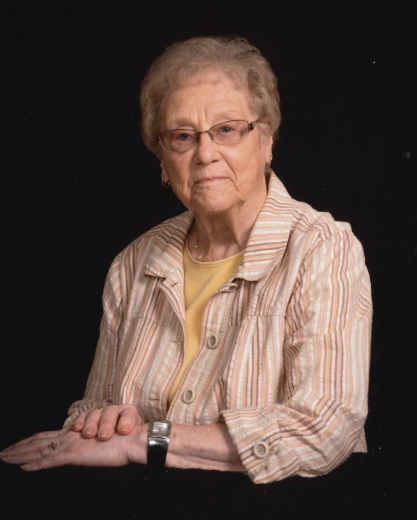 Creta J. Prosch
1927 – 2023
IDA GROVE - Creta Prosch, 95 of Ida Grove, Iowa, passed away on Thursday, June 1, 2023, at the Black Hawk Life Care Center of Lake View, Iowa.
A Funeral Service will be held at 10 a.m., Tuesday, June 6, 2023, with a visitation held one hour prior from 9-10 a.m., at the St. Paul Lutheran Church of Ida Grove, Iowa. Rev. Richard A. Salcido will be officiating. Committal Services will follow in the Ida Grove Cemetery of Ida Grove, Iowa.
The Christensen-Van Houten Funeral Home of Ida Grove, Iowa, is in charge of the funeral arrangements. Condolences may be sent online at www.christensenvanhouten.com.
In lieu of flowers, memorials may be directed to the St. Paul Lutheran Church of Ida Grove, Iowa, in remembrance of Creta.
Creta (Else) Prosch was born on Aug. 29, 1927, to Ethel (Fouts) and Alfred Else in Battle Creek, Iowa. She grew up on a farm in Grant Township, where she attended country schools through the eighth grade. Her parents then sent her to board in Ida Grove to further her education at the local high school. Creta graduated from Ida Grove High School with the class of 1945, along with her future husband and lifelong partner, Dale Prosch. Creta and Dale were married at her grandparents' home on Feb. 22, 1948.
After they married, Creta and Dale moved to the farm in Logan Township where they lived until moving to Ida Grove in 1998. On the farm, they raised their two daughters Peggy Lee and Doll Lee. Creta's love of animals grew on their farm as they raised cattle, pigs and her beloved chickens, dogs, and cats. When her children were young, Creta had laying hens, raised broilers to dress and sell, milked cows, and gardened. In the early 1970s, she went to work as a nurse's aide at Horn Memorial Hospital, later transferring to home health. Creta had a great talent and joy for taking care of all people, but most especially the elderly. During the early years of her marriage, Creta was a member of the Logan Homemakers Club. Creta and Dale were long-time members of St. Paul Lutheran Church of Ida Grove. Creta was very active in the church: teaching Sunday School, participating in women's circle, serving with the kitchen crew, and providing meals when needed.
Creta had many joys in life, especially her children, grandchildren, and great-grandchildren. She also enjoyed dancing with Dale and their many friends. They were fun to watch and came to school sock hops to show off their talent. Playing cards was another activity Creta and Dale enjoyed doing with friends, sometimes even being part of three different groups at a time. Creta was also a fantastic cook and baker. There was never a shortage of delicious meals, cookies, pies, and bread to be had at the Prosch home.
Left to cherish her memory are daughters, Peggy (Doug) Hanson and Doll (Jim) Wiegel; Grandchildren: Ginger Wych, Beau Hanson (Izzy Walles), Jamie (Scott) Burns, Lindsay (Zach) Frey, Whitney (Meghan) Wiegel, and Zachary Wiegel (Samantha Harrison); and 10 great-grandchildren.
Preceding her in death are her husband of 74 ½ years, Dale Prosch; her parents, Alfred and Ethel Else; mother and father-in-law, Alma and William ('Bill') Prosch; as well as many other relatives and friends.
Services: June 6, St. Paul Lutheran Church, Ida Grove
Burial: Ida Grove Cemetery, Ida Grove
Christensen-Van Houten Funeral Home • Ida Grove • 712-364-2727
Category:
The Ida County Courier
Ida County Courier
214 Main Street
PO Box 249
Ida Grove, Iowa 51445
Phone:  712-364-3131
Fax:  1-800-340-0805
Mid-America Publishing
This newspaper is part of the Mid-America Publishing Family. Please visit www.midampublishing.com for more information.